If you want to make a difference and take action to protect our ocean environment, why not join a Sunshine Coast beach clean? It's sure to inspire you and make you feel great and you'll probably learn a lot and meet some pretty amazing people too. Read on to discover how to get involved in a beach clean in Queensland and start getting active for the environment today.
What's a Beach Clean?
Beach clean ups are community activities that happen along coastlines around the world. They are normally organised by volunteers and have a fun and lively atmosphere. Environmental groups, civic organizations and individual beach-goers join forces to collect beach rubbish in order to make the beach a nicer, safer place and to improve the health of the coastal and ocean ecosystem.
It's an amazing feeling to be part of the solution. So, why not check out these brilliant organisations that plan these events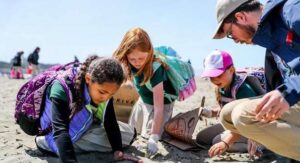 in our incredible region and find out what's coming up….
Organise a Beach Clean on the Sunshine Coast
Click the links below to find out all about how to organise a beach clean on the Sunshine Coast.
Or Brisbane
Other organisers…