It's that exciting time of year when humpback whales migrate up and down the Queensland coastline from the Antarctic to mate and give birth in warmer waters. The arrival of the whales is celebrated throughout East Coast Australia and we reckon it's the greatest show on earth! Why not head down to the coast and join in the celebration? Read on to find out when and where to see humpback whales on East Coast Australia and to learn a whole lot more about them…
Get your FREE Humpback Whale Migration Calendar at the foot!!!!
The Best Time to see Whales on the East Coast
The exact timing varies depending on the temperature of the water, among other factors, but generally the best time to see humpback whales on the East Coast is between May and November each year.
The whales firstly migrate north up the East Coast, then can be seen migrating back south from September to November. This is the best time to see the whales as they often have calves and swim close to the shore in order to protect the calves from predators.
Remember!
Calm morning waters make humpbacks easier to spot but sunsets make for spectacular photos!
The Best Places to See Whales in Queensland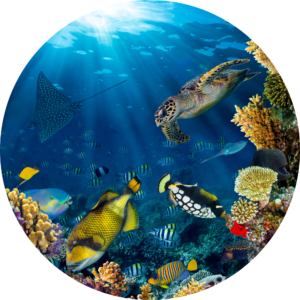 The best places to see whales in Queensland are considered to be the Sunshine Coast, The Great Barrer Reef, and Hervey Bay.
The humpback whale's spectacular acrobatic displays can be easily seen from the shore or from a viewpoint, but if you want to get closer, take a whale watching tour.
Don't forget to ensure you book with a company that operates in a respectful manner as whales need to be protected from human impact.
The Best Places to See Whales on Queensland's Sunshine Coast
You can easily see whales on Queensland's Sunshine Coast from the shore. Sometimes you'll see several pods at once as the view points tend to offer 180 degree viewing. Not many people can say they can watch whales from close to their own doorstep!
The best places on the Sunshine Coast include:
Coolum: Point Perry or Point Arkwright, Coolum
Kawana: Point Cartwright
Moffat Beach Headland
Noosa: Hells Gate, Noosa National Park
Alexandra Headland
The Best Places to See Humpback Whales near Brisbane
If you live in or are visiting Queensland's biggest city, Brisbane, then North Stradbroke is the best place to see humpback whales from the shoreline. It's an easy and very beautiful 50 minute boat ride from the outskirts of Brisbane. North Stradbroke is home to a large Aboriginal population which celebrates the arrival of the whales each year.
Whale Watching Tours in Queensland
If you wish to do a whale watching tour in Queensland, you could find the whales swimming under your boat. It's really not uncommon as whales can be very inquisitive!
Boats are not permitted to go within three hundred meters of whales but if they come to you, that's another matter. Our recommended spots for whale watching boat tours are Mooloolaba, Hervey Bay (about a quarter of humpbacks pass through here), Whitsundays and the Great Barrier Reef.
Humpback Whale Events & Celebratons
Humpback whale events and celebrations take place annually along Queensland's coast. The Quandamooka Aboriginal people of North Stradbroke Island host a "Welcome the whales" traditional celebration and no wonder, the island has some great vantage points for watching the show!
Further north, Hervey Bay is famous for the Hervey Bay Whale Festival. Hervey Bay is unlike anywhere else along the 'humpback highway', as many whales stop here to spend around ten days resting, socialising and playing before continuing their trip back south to the Antarctic for the summer months.
Want to know more humpback whale facts?
Check out our online humpback whale course to learn a whole lot more humpback whale facts. The course includes awesome videos, infographics, a whale-watching guide, migration calendar, maps, quizzes and more! 
Click here for teaching resources
How Can I Protect Whales? 
You can make a difference and protect whales while watching them by following the following guidelines: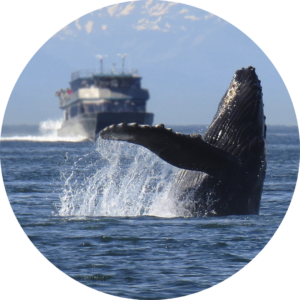 Educate yourself and tell friends
Whale watch with a thoughtful and responsible company
Report sick or injured animals
Reduce plastic usage
Support a whale charity such as:
Whale & Dolphin Conservation
Marine Conservation
Sea Shepherd
Humpbacks & Highrises
Get your

FREE Humpback Whale Migration Calendar