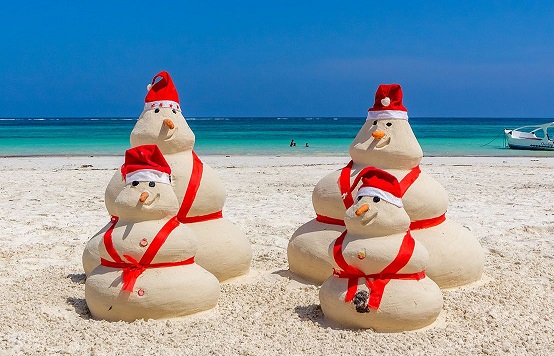 There are so many awesome things to do on the beach that will keep everyone occupied for hours this Christmas holiday. The beach is a great place to have fun while learning about the ocean without even knowing it!
Here's Ocean Life Educations' guide to the best beach activities this Christmas holiday …
1. Make a Christmas Sand Sculpture 
Tools: one large bucket, various sized smaller buckets and cups and bowls, wooden spatula, beach spade.
Carving tools: gardening spade, paper straws, wooden kebab spears, knives, forks, spoons, string for shaving and shaping, various sized paint brushes, plastic spray bottle filled with fresh water (to stop sand drying out) – salt water will block the spray.
Note. Always try to take as little plastic to the beach as possible. Even with the best intentions, things often get lost in the sand. 
Christmas Sand Sculpture Method:
🐠 Choose your festive theme
Maybe start off with a simple idea like a Xmas tree or why not just go for it and get straight down to a Santa bearing gifts!
🐠 Use a big bucket to make a base
Cut the bottom out of an old bucket, turn it upside down and fill it with sand to create a stable base which is too heavy to flip up. See details of how to fill the bucket below…
🐠 Sand consistency is key
Sand consistency is key to success. Add sand to water, not water to sand. Sand needs to be wet but not slushy and not powdery and dry – like a mud consistency really.
🐠  Pack the sand in the bucket 
Pack the sand in the bucket – no more than 7cm thick at a time. Use a wooden spatula to ensure you are firmly packing down the sand as you go. Keep adding like this until the bucket is full. Tap the sides of the bucket with your spatula and if the consistency is good, you should easily be able to remove the bucket to expose your foundation sand block. 
🐠 Build up your base 
Keep adding more sand to your base and compacting it, 7cms at a time, until you have achieved the size and height that you require for your design.
🐠  Carve your sand sculpture 
You are now ready to start work on carving your creation! Remember to carve your sand sculpture from the top down. Create your basic outline and get rid of any unwanted sand. Now it's time to get down to the detail…
Happy sand carving!
2. Go Rock Pooling
Both adults and budding marine biologists will love discovering the black sea cucumbers, rose barnacles and sea stars plus many more creatures that make their home in the waters of rocky shoreline areas. Here are some great places to go rock pooling at low tide…
🦀 Point Cartwright, Buddina
A local treasure between the river mouth and the headland. Bountiful sandy rock pools with loads to see, perfect for kids to explore safely at low tide.
🦀 Kings Beach, Caloundra
Sheltered rock pools with abundant marine life and plenty more to do.
🦀 Shelly Beach
Renowned for its ankle-deep rock pools that abound with marine life.
Remember to stay safe and be mindful of the tide! And…don't put your hands in where you cant see what's there. You never know, there may be a Blue Ringed Octopus lurking around!!!!
Happy hunting! 🦀🦀
Want to know more about rockpools? Check out our blog : https://www.oceanlifeeducation.com.au/rock-pools-rock/
3. Get Crafty – make a sustainable Christmas tree or mobile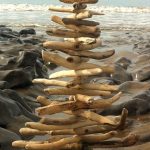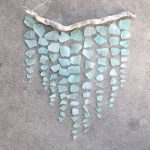 Sustainable driftwood Christmas trees and hanging mobiles made with washed up plastic or glass make great sustainable Christmas decorations. Adding lights and other decorations to a tree will really give it a Xmasy glow.
PROTECT OUR BEACHES
We don't encourage people to remove shells from the beach. The beach needs them more than we do. If you are tempted, please ensure you return them to where you found them!
PLASTIC FREE BEACHES
Try not to take any plastic to the beach, things often get accidentally lost in the sand and can end up in the sea.
Enjoy the ocean and have a Merry Christmas from the team at Ocean Life Education!