Woohoo!!! The humpbacks are coming up the coast, so we're celebrating their arrival with an awesome new Humpback Whale Kids Course. 
More than 20,000 Humpback Whales migrate up the East Coast of Australia from May each year. It's one of the longest migratory journeys of any mammal (up to 10,000km) and it's free and easy to watch from the coast. So why not get the low down on the migration and get down to the ocean to experience what's probably the greatest acrobatic show on earth!
Humpback Whale Kids Course Content
We've created awesome videos, images, fast facts, infographics, a whale watching guide, humpback ID chart, a migration calendar, maps, quizzes and more that will arm you with all you need to know about humpbacks.
Check out our Humpback Whale Kids Course. 
Whale Watching Guide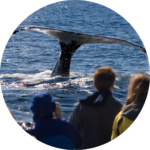 Our whale watching guide includes everything you need to know about whale watching, including:
When & where to go whale watching
Humpback whale migration calendar
Best lookout points: QLD & NSW
Whale watching tips
Humpback identification chart
Humpback Videos
Our short humpback videos include amazing footage of humpbacks doing what they do best – breaching, slapping and  singing! so, we've added some lively music which we think goes pretty well with the whales – it's big and bold too!!
Check out our Humpback Whale Kids Course. 
 How to Protect Humpback Whales
We can all do our bit to help protect humpback whales, like…
Educate yourself & your friends
Whale watch with a responsible company & keep 100 metres away
Report sick or injured animals
Reduce plastic usage & do not litter
Support a whale conservation organisation…
Whale & Dolphin Conservation au.whales.org/
Marine Conservation marineconservation.org.au/whaling/
Sea Shepherd seashepherd.org.au/
Humpbacks & Highrises hhr.org.au/