As educators, we hold a substantial responsibility to shape young minds and cultivate a sense of stewardship towards our planet. One of the most critical lessons we can impart is the understanding of human impact on the ocean. The ocean, covering more than 70% of our planet, is vital to our survival and well-being. By teaching children about the ways in which human activities affect the ocean, we empower them to become informed and responsible global citizens who actively contribute to ocean conservation efforts.
We love educating children (and adults) about the ocean and feel a duty to ensure that an environmental message is at the core of what we do. Click the link to watch our Human Impact video for schools and read on for useful ideas and resources to assist you as educators to plan your teaching about Human Impact on the Ocean….
Human Impact Curriculum Themed Incursions for Primary & High Schools
1. Exploring Ocean Ecosystems. Start by introducing your students to the wonders of ocean ecosystems. Dive into the diverse marine life, from coral reefs to kelp forests, and discuss the intricate relationships between species. Encourage them to think about the ocean as a complex web of life, where each organism plays a crucial role. Check out our free Habitats Resources and Programs for facts and activities. Our Humpback Whale Teaching Resources will help bring food webs to life ($30).
2. Our Connection – Human Activities and Ocean Impact.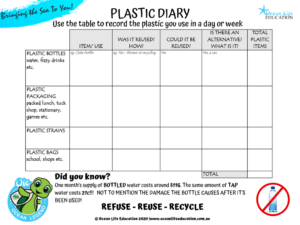 Help children understand the connection between their daily actions and the health of the ocean. Discuss activities such as plastic consumption, waste disposal, and carbon emissions. Engage them in thought-provoking discussions about how seemingly small choices can have significant consequences for marine ecosystems. Get children involved with our Plastic Diary and other free activities.
3. Plastic Predicament: The Impact of Plastic Pollution. Dive deep into the issue of plastic pollution and its devastating effects on marine life. Share heartwarming success stories of communities coming together to clean up beaches and reduce plastic waste. Organize a beach cleanup or a plastic-free challenge to inspire hands-on action. Check out our blog to find out how to go about organising a beach clean on the Sunshine Coast.
4. Coral Compassion: Coral Reefs and Climate Change. 
Explore the vibrant world of coral reefs and their vulnerability to climate change. Discuss coral bleaching and its connection to rising ocean temperatures. Encourage students to brainstorm ways to reduce their carbon footprint and advocate for sustainable practices. Download our free Habitats PDF fact sheet which include Coral Reef Habitat.
5. Guardians of the Sea: Empowering Future Ocean Stewards. Foster a sense of responsibility and empowerment in your students, many of whom live on the Queensland Coast and experience the ocean in their daily lives. Encourage them to be vocal advocates for ocean conservation by writing letters to local officials, creating awareness campaigns, or participating in community projects and beach cleans. Highlight inspiring stories of young activists who have made a difference, such as Gretta Thunberg. They may be interested in joining a volunteer conservation organisation like:
6. Creative Expression: Art and Literature for Ocean Awareness. Read stories about turtle hatchlings to younger years, such as lluka the Hybrid Hatchling and Trevy's Tricky Day. Encourage children to create marine-themed artwork, write stories about ocean adventures, or poems about the ocean and how fragile it is.
Teaching children about the human impact on the ocean is a vital step towards securing a sustainable future for our planet. By instilling a deep appreciation for the ocean and nurturing a sense of responsibility, we equip our students with the tools they need to become compassionate stewards of the sea. Together, as educators and young minds, we can make a lasting difference and ensure that the ocean thrives for generations to come.
Why not book in one of our inspirational Ocean Life Education Programs or Events?