Whale sharks look quite different to how we imagine a shark to look. They are enormous, reaching 12 meters or more in length and weighing as much as 16 tons – basically, they are about the size of a bus! And they don't have sharp teeth, in fact their teeth don't really assist in feeding at all. So, it's no surprise that people often ask us the question…is a whale shark a shark?
Are Whale Sharks Really Sharks?
The answer is yes, whale sharks really are sharks. They have all the 33 characteristics of a shark, such as a cartilage skeleton, five pairs of gills and unfused pectoral fins to the head. Unlike whales, they are not mammals and their young are not fed by the mother's milk. Like sharks, whale sharks are fish. In fact they are the largest fish in the ocean. So, whale sharks really are sharks…and they get their name from the fact that they are enormous!
What Do Whale Sharks Eat? 
Whale sharks have rows of over 300 tiny teeth, but as filter feeders they do not use these teeth to eat. Instead, whale sharks (and other filter feeding sharks) swim along the ocean's currents with their huge mouths open wide, filtering large quantities of water as they go and extracting tiny organisms called plankton & krill from the water. A whale shark's mouth is about 1.5 meters wide, so it's an impressive sight!
The 3 largest sharks include (in size order)
Whale Shark 17 meters
Basking Shark 15 m
Megamouth Shark 7-8 m
All filter feeders!
Diet: Plankton (tiny organisms), krill and small fish
Ten Amazing Whale Shark Facts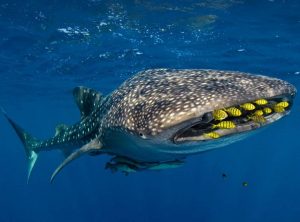 Largest fish and shark in the world

Habitat: warm open waters of the tropical oceans 

Whale sharks spend most of their time near the surface

Lifespan: 70 to 100 years

Average length of an adult: 9.7 meters

Average weight: 9 tonnes

Teeth: over 300 rows of tiny teeth – not used for eating!

Whale sharks are solitary creatures

Filter feeders – feeding mainly on plankton

Able to process over 6,000 litres of water each hour
Why We Need Sharks
Learn more about sharks? 

Further reading…