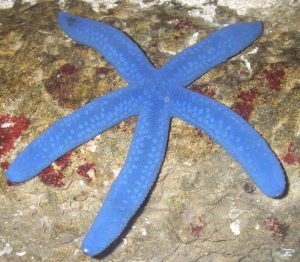 Sometimes, it's the simple things in life that make the most impact.  Take sea stars for example –  these unassuming members of the marine world are more than just pretty decorations on the reef.
These topsy turvy creatures with their mouth underneath and their bottom up top, play a major role in keeping our oceans healthy.
Sea stars are the underwater clean-up crew.  They eat their way through debris discarded by other animals feeding frenzies, as well as targeting organisms that need to be kept in check.  The services they provide in the marine eco system has earnt them the title of keystone species.
And they're not afraid to take on a big challenge.  These close relatives of sea urchins and sand dollars can consume creatures much larger than their small mouths would suggest, thanks to a stomach-turning technique they've perfected.
They can expel one of their two bellies outside their body to wrap around prey – this external digestion is a slow process, taking them up to 10 hours to finish their meal.
But this is only one of the tricks up their five more sleeves….. sea stars can regenerate entire bodies from just one severed limb.  This is because most of their vital organs are in the arms, including eye spots, which help them to sense light from dark as they move about in the ocean.
Not bad for an animal that has neither a heart nor a brain.  Instead, these echinoderms have a basic water vascular system which allows them to pump the surrounding sea through their bodies.  Even their tiny, suction-cupped feet, which they use to move about, are fed from the filtered water they draw in.
There are close to 2,000 species of sea stars in our oceans using these clever adaptations.  These sloths of the sea will never win any medals for speed but many can live up to 35 years – a rarity amongst marine animals of this size, which speaks volumes about their ability to beat the odds.
While, some are protected by a spikey, calcified skin, most just rely on their bright colours to deceive predators into believing they're toxic to touch.
Ocean Life Education has long been a fan of sea stars – they are an integral part of our team of animal ambassadors that accompany us to all our presentations.
If you would like to gently touch and learn more about these amazing sea creatures and many others like them, contact us at Ocean Life Education on info@oceanlifeeducation.com.au Discover for yourself why this most unassuming of marine animals truly has star qualities.