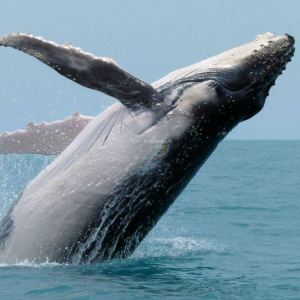 Every winter, anyone along the East Coast of Australia gets a front row seat for one of nature's most spectacular shows.
The stars are humpback whales – massive marine mammals that like to steal the limelight.  These traveller performers drop by on their 25,000 kilometre round trip between Antarctica and their breeding grounds in the tropics.
These acrobatic animals are definite crowd pleasers – playing to an appreciative audience….
Just the sight of a spout is enough to cause a commotion…and little wonder.  After holding their breath for twenty minutes, humpbacks can exhale several metres into the air…..
But it's really just the warm up – the opening act can be pectoral fin slaps…. When their five metre long appendages slam onto the ocean surface – a wakeup call for anyone close by.
Tail slaps are another great way to grab attention. One is never enough.  It's an opportunity to show off their personal fluke pattern – the best way to identify a humpback….
If they sense they're losing their audience, the whales can opt for a spy hop – raising their head out of the water to assess the world around them….
But the absolute shop stopper is the full body breach – when up to 30 tonnes of mammal is launched into the air and slams back down.  The impact is phenomenal – seen and heard from kilometres away.
There's lots of different theories as to why whales perform this manoeuvre – some feel it's a way to communicate with other humpbacks close by; others believe it's like a giant stretch after a long rest – a signal they're about to get active again.
Either way its unforgettable – and can only be topped if there's an understudy in tow.  Young calves accompany their mothers on the trip back south, eager to try out their performance skills as well.
At just five metres long, they're only a fraction of their Mum's size but still capable of making their presence felt.  Drinking 400 litres of milk a day, these youngsters grow quickly and by this time next year will be ready to go solo.
In a final bow to the crowd, the whales lift their tails and disappear from stage – diving deep and leaving the audience wanting more, with no indication where and when their next performance will be.
Even if you miss the show, you can learn more about these magnificent animals in one of Ocean Life Education's Marine Mammal presentations.  Click here for more details.