Most children (and adults!) are naturally fascinated by sharks, either through sheer awe and wonder or by misguided fear. So, it's no surprise that we can engage kids with sharks to learn a whole range of curriculum topics, without them even realising!
Ocean Life Education has developed a range of FREE online shark teaching resources and an online shark course to provide kids, schools and teachers with engaging ways to learn about sharks.
Why Are Kids Fascinated by Sharks?
Unfortunately, kid's interest in sharks is often fuelled by exaggerated media stories and scary films, but it's sharks' appearance, immense power and ability to hunt that really grab their attention.
Incredibly, sharks have been around for at least 450 million years (since before the dinosaurs). A major reason why sharks have outlasted so many other animals, and a key reason why we are so fascinated by sharks, is their incredible anatomy, which is adapted to hunt and to survive.
Teaching Kids About Sharks Helps Protect Sharks and The Ocean
As APEX predators, sharks sit at the top of the food chain and help control the numbers of animals below them in the food web, thus maintaining the balance of life in their marine habitat. By controlling populations of large and mid-sized predators, sharks allow smaller fish to thrive, ensuring healthy ecosystems with a diverse range of species and competitors. Take sharks out of the food chain and the whole structure could collapse.
As we depend on healthy oceans for around 70% of the air that we breath, as well as for a host of other things such as food to eat, it is in our interest to minimise human impact and protect animals that protect our ocean.
Curriculum Themes and Sharks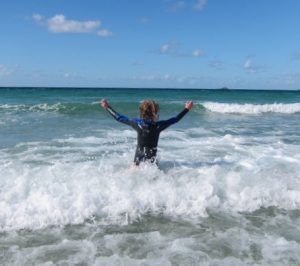 Through the fascinating topic of sharks, kids can learn a host of curriculum themes such as adaptation, habitats, human impact, food webs, natural selection and classification. Studying the curriculum, while being thoroughly engrossed in the subject matter, makes the process of learning all the more enjoyable and inspiring.
Learning Enrichment and Sharks
Often children who need extra support within learning enrichment respond really well to curriculum-based learning which is based around their own topic of interest. That's where teaching 'Sharks' can be a really useful tool to stimulate interest and hook children in.
Sharks Course for Kids & Shark Teaching Resources 
Ocean Life Education has created a host of engaging FREE shark teaching resources and activities: videos, sharks fact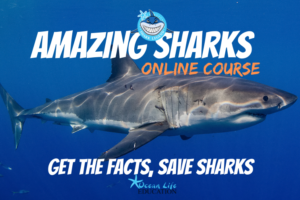 sheets & infographics, shark worksheets, shark activities, shark quizzes and an online shark course for kids (and adults!), with the aim of promoting understanding of sharks. All can be used as engaging shark teaching resources for educators, as well as fun shark activities for kids.
Online Sharks Course for Kids
Become a Shark Legend with Ocean Life Education's Amazing Sharks online course – learn the facts, bust the myths and help protect these totally awesome creatures through a fun and interactive online shark course. Personalised shark legend achievement certificate awarded on completion. Suits Age 7+.
We hope you enjoy our resources and course and are inspired to want to protect amazing sharks too.
Want to know more?
5 Awesome Shark Facts
Sharks have been around since before the dinosaurs.
Sharks are literally built to hunt.
Sharks can produce 30,000 teeth in a lifetime.
Humans depend on sharks.
You have more chance of being killed by a cow than a shark!
5 Easy Ways to Help Protect Sharks