Whale sharks are the largest fish in our oceans and can reach 40 feet or more. Whale sharks are slow moving filter-feeders. They feed by scooping up tiny plants and animals in their enormous gaping mouths as they glide close to the surface of the ocean. They are enormous and can weigh as much as 60 tons!!!
Are whale sharks really sharks?
 They have all the 33 characteristics of a shark such as a cartilage skeleton, five pairs of gills and unfused pectoral fins to the head. Unlike whales, they are not mammals and the young are not fed by the mother's milk. Like sharks, whale sharks are fish.
Ten Amazing Facts About Whale Sharks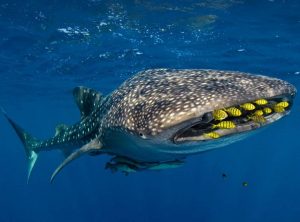 The whale shark (Rhincodon typus) is the largest fish and shark in the world

The whale shark is found in open waters of the tropical oceans and is rarely found in water below 22 °C (72 °F). They are usually restricted to around +- 30 degrees of latitude

Scientists estimate that the lifespan of the whale shark ranges from 70 to 100 years

The whale shark is also the largest non-cetacean animal in the world

The average size of adult whale sharks is estimated at 9.7 meters (31.82 ft) and 9 tonnes (20,000 lb)

The whale shark has over 300 to 350 rows of tiny teeth in its mouth
Whale sharks are solitary creatures
They spend most of their time near the surface
The whale shark is a filter feeder, feeding mainly on plankton
The whale shark can process over 6,000 litres (1,500 gallons) of water each hour