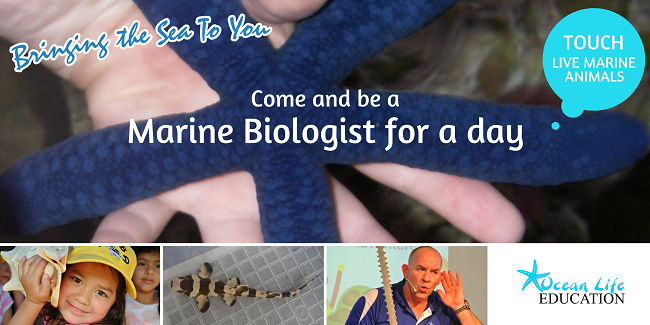 Become a Marine Biologist for a Day and be immersed in a full day of marine science!
Our new full day program for school aged kids is perfect for those passionate about marine animals and ocean conservation.
In Marine Biologist for a Day, our aim is to educate kids with the right information based on science to create informed, future custodians of the ocean and all its wonderful creatures within it.
What you can expect:
Get up close and touch live marine creatures
Find out why animals look and feel the way they do, how they function and what their role is in the marine environment
Learn what problems humans create for them and why we need to look after them.
Learn about Sharks and the important role they play in the marine ecosystem
Understand why sharks sometimes attack humans
Touch real shark jaws
Marine Biologist for a Day will be an experience they will never forget!
Who this program is for
Marine Biologist for a Day is suitable for students in Grades 2-5. The program is limited to 25 students so they can get the best learning experience.
Parents are invited to arrive half an hour before the conclusion so they may be educated by their children, giving the kids a chance to show off the wealth of new information they have acquired. Parents will be amazed just how much their kids remember.
BOOKINGS OPEN
Monday 10th April, school holidays – 9am – 2.30pm
Join the Event on our Facebook page or contact us by email or phone 07 5443 8545
Location: Alexandra Headlands, Sunshine Coast Cost: $85 per child
Spaces are limited, bookings essential!